A Catalog Of Lovecraftiana: The Grill / Binkin Collection
| | | |
| --- | --- | --- |
| Publisher: | | The Mirage Press, Ltd, Baltimore, Maryland, U.S.A. |
| Editors: | | Mark Owings and Irving Binkin. |
| Binding: | | Pictorial wrappers. |
| Publication date: | | 1975 |
| Number of pages: | | x + 72 pages. |
| Size: | | 5½ x 8½ inches. |
| ISBN: | | Hardcover: 0-88358-122-1. |
| | | Softcover: 0-88358-020-9. |
| Size: | | Octavo. |
| Number of copies: | | 2000 copies of which 1500 paperbound and 500 cloth bound. |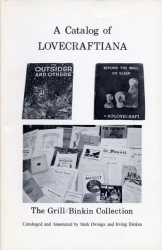 Front cover
The cover depicts, amongst others, the front cover of "The Outsider and Others", with the illustration by Virgil Finlay.
A Catalog Of Lovecraftian contains:
Frontispiece by Joe Wehrle, Jr.
Dedication: Philip Jack Grill: June 29, 1903—April 21, 1970, by Irving Binkin.
Introduction, by L. Sprague de Camp.
An illustrated checklist of 668 entries of the collection.